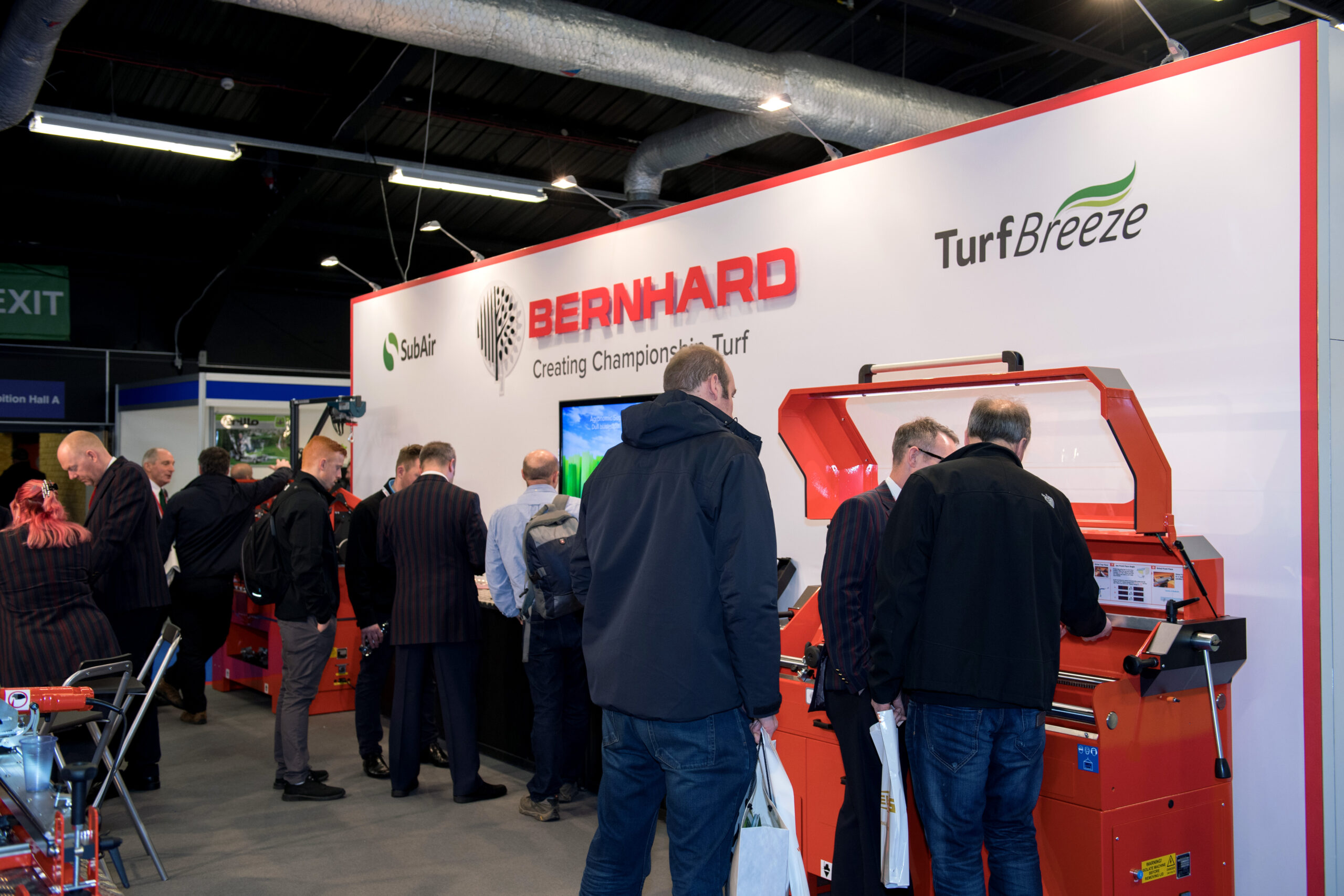 Posted on
October 29, 2021
Industry-leader in turf sharpening equipment and management solutions, Bernhard and Company has announced its attendance at an exciting run of turf trade shows throughout the autumn and winter in both the UK and USA.
The company will be showcasing a brand-new, bespoke booth, designed to enhance the experience of those visiting the shows. In addition, Bernhard and Company will present all-new informational product and service videos while also demonstrating the benefits of its market-leading grinding equipment, superb aftersales service, and educational expertise.
Bernhard and Company has a rich history of relationships and attendance at trade shows and conferences around the globe, having first exhibited at GIS as early as 1995. "Exhibiting at trade shows around the world in various markets has enabled us to remain at the forefront of the industry for decades," said Steven Nixon, Global Director of Sales for Bernhard and Company.
"It not only allows us to increase our brand awareness, but also provides us with a fantastic opportunity to engage with clients, present new technology, and develop new and exciting relationships," he added.
During the first week of November, the Bernhard and Company team will be heading to the NEC Arena in Birmingham for the 2021 SALTEX show. The Sports Amenities Landscaping Trade Exhibition will take place on the 3rd and 4th November 2021 and is a must-visit for those maintaining or managing pitches, estates, grounds, landscaping, play areas or parks. The Bernhard and Company stand can be found at F030.
As proud members of BIGGA, the British and International Golf Greenkeepers Association, the Bernhard and Company team will be heading to Halifax, Yorkshire, in January for the BTME (BIGGA Turf Management Exhibition) show. While presenting its latest product range, the industry-leader will also be introducing the members of the 2022 BIGGA Delegation. Each year, the company takes ten selected delegates to the GIS Show for a week of first-class education and experience. This year will mark the visit of the 200th delegation member – a landmark occasion.
In addition, the leaders in grinding technology will be travelling to the USA in February to attend the much-anticipated Golf Industry Show (GIS) in San Diego. The Trade Show at the GCSAA Conference and Trade Show, will take place between the 8th and 10th February 2022, and is golf's premier learning and networking marketplace. The show attracts huge numbers of key decision-makers from every aspect of the golf course and facility management industry.
"We are very excited to be able to get back out on the road with our sales and client relations teams to attend some of the industry's most highly regarded trade shows," said Steven Nixon.
"The UK and the USA are hugely important regions for our business, so it is very important for us to be able to remain at the front and centre of the turf management industry in those areas.
"The tradeshow season is always an intense period. It is important to be able to show our customers and distributors alike what we have to offer, while also assuring them that we are available at all times to support their every need."
KNOW BERNHARD AND COMPANY?
A specialist in sports turf technology, Bernhard and Company is committed to providing leading turf care solutions to golf course and pitch care specialists worldwide. The Company offers innovative and market leading blade sharpening systems as well as sports surface air movement and moisture control solutions.
With over 150 years of being at the sharp end of the industry the Bernhard and Company product portfolio is focused on providing its global customer base with championship turf, world-class playability and unbeatable quality of cut. Bernhard and Company's turf health solutions are used at top 100 courses and famous sporting venues around the world – there has to be a reason why. For more information, visit www.bernhard.co.uk.
Find Bernhard and Company on their official social media channels:
Twitter – @BernhardCompany
Facebook – Bernhard Company
Instagram – @BernhardCompany
Linkedin – Bernhard Company