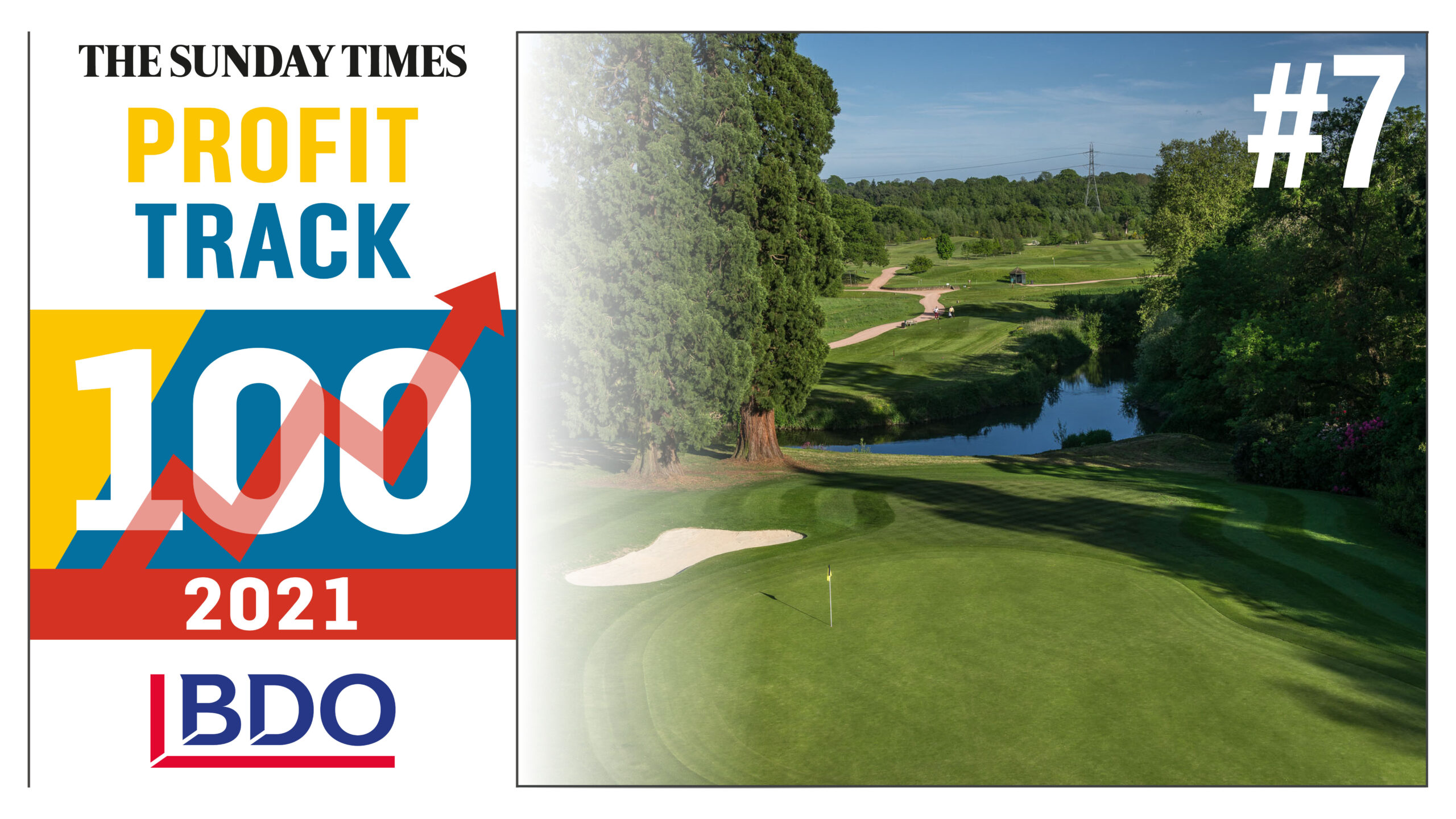 Burhill Group Limited (BGL), owners and operators of 22 golf courses across 10 UK golf clubs, as well as 10 Adventure Leisure facilities, has ranked in 7th place in the 22nd annual Sunday Times BDO Profit Track 100 awards. The full listing was published yesterday within the Business section, on the tablet edition, and on the Fast Track website.
The Sunday Times BDO Profit Track 100 is an annual league table published by the Sunday Times newspaper. It ranks Britain's 100 private companies with the fastest-growing profits over their last three years of trading. The league table is researched and produced by Fast Track, an Oxford-based research and networking events business, and is typically published in the Sunday Times each April. The 'Covid-19' special edition measured profits up to the end of 2019, therefore covering the three years pre-pandemic.
"After what was undoubtedly an extremely tough year for the entire leisure and hospitality industries, we're delighted to place so highly in a ranking that underlines our success over a significant period of time before the pandemic hit," said Colin Mayes, CEO of BGL.
"The results were aided by numerous successful transactions across our extensive property portfolio during 2019, but the placement is also testament to our team's outstanding delivery and unwavering commitment to providing excellent products and services to customers across our golf courses, our crazy golf, and 'competitive socialising' leisure destinations in the UK.
"While the pandemic and resulting lockdowns have been extremely challenging for everyone, as a business we are still committed to assessing continued investment in our existing businesses and development opportunities throughout the leisure sector when they arise. We are determined to grow our business further as we put Covid-19 behind us."
As one of the largest multi-site golf and leisure venue owners and operators in the UK, BGL recorded strong profits over the pre-pandemic period. The profits are the result of property transactions alongside sustained, sensible investments across the group's facilities that focus on creating welcoming and high-quality golf, leisure, and entertainment destinations for every occasion.
Namely, in recent years, the group has invested significant sums on the rollout of their hugely successful, Mr Mulligans, and newly formed, BUNKERS! adventure golf brands, which now exist in 10 locations across the UK.
On the core golf business, the company has reaped the rewards of a £5million investment into a new health and fitness facility that opened in 2016 at their Birchwood Park site. Equally, BGL has diversified and grown its facilities and driving range technology, displaying dedication to growing the game for golfers of all levels as well as a commitment to the future of golf and family activities. This goes alongside other astute investments in both long and short-term projects designed to improve the overall customer experience at its venues.
"These results have been delivered by our fantastic, dedicated team of people across the entire business and, as every business knows, people are at the heart of success," added Mayes. "We truly are grateful to have such great teams in place at all of our locations."
The 22nd annual Sunday Times BDO Profit Track 100 award ceremony will be held as an interactive virtual event on Tuesday 15th June. This special Covid-19 edition recognises the impressive past performance of the featured companies, and the contribution they have made to the economy and to society during the pandemic.
For more information on Burhill Group Limited visit www.bglcompany.co.uk.