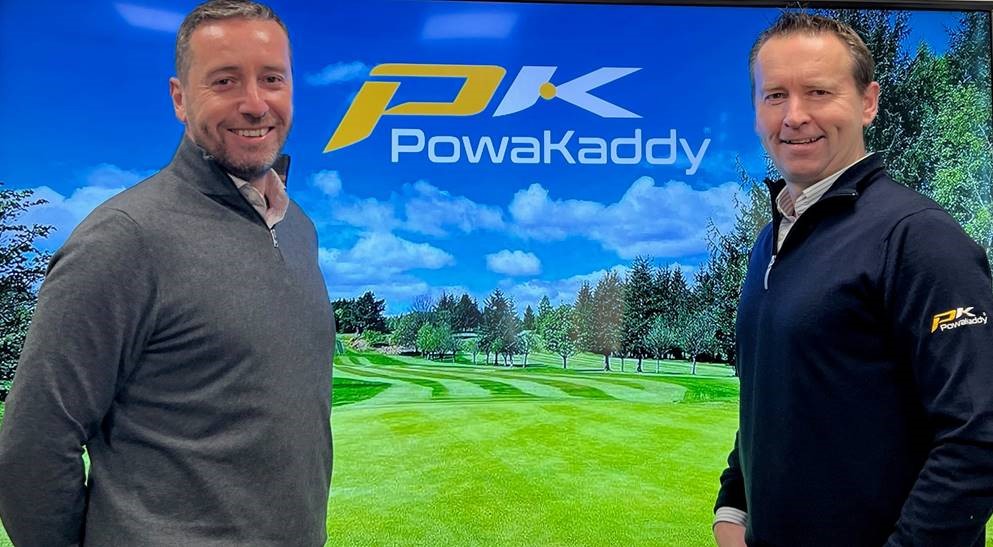 Posted on
January 19, 2022
The world's leading electronic golf trolley brand, PowaKaddy, has announced the appointments of James O'Shea as the company's new Marketing Director, and Graeme Wigham as Sales Director. James and Graeme will be starting their new roles at PowaKaddy this month, as the company looks to broaden its senior leadership team, targeting ambitious future growth having enjoyed consistent success in recent years.
James joins PowaKaddy with more than 20 years' experience in marketing, with both market leader and challenger brands. He has worked across a variety of categories, including sports nutrition and beverages, at prominent brands such as GSK, Carlsberg Tetley and Maximuscle.
Graeme joins the team with extensive experience in the golf industry, having previously worked at Callaway for over a decade, and with further experience in consumer goods gained at both Nestle and Diageo.
With this double appointment, PowaKaddy aims to continue driving innovation both on and off the golf course. As the market leader, the company plans to further cement its place as the pre-eminent force in the golf trolley market.
"We are very pleased to welcome both Graeme and James to the team," commented PowaKaddy CEO, David Catford. "Appointments such as these demonstrate our desire and intent to continue to evolve and grow, both as a team and as a company. We are sure that James and Graeme will bring new ideas and processes that will help us continue on our journey as the world's leading electric golf trolley brand, and grow the business from strength to strength."
When discussing his new appointment as Marketing Director, James commented: "I am thrilled to be joining the PowaKaddy team in 2022, especially in what is such an exciting period for the golf industry, with unprecedented levels of participation in the sport. PowaKaddy has firmly established itself as the leading player in the electric golf trolley market. I've seen the 2022 product range, which looks amazing, and I'm looking forward to driving the brand forward."
Commenting on joining PowaKaddy, Graeme said: "I am delighted to be joining PowaKaddy as Sales Director. PowaKaddy is a household name in golf, and it's extremely exciting to be joining such a prestigious brand in the golf industry. Personally, I can't wait to get started, and to begin contributing to the future success of the business."